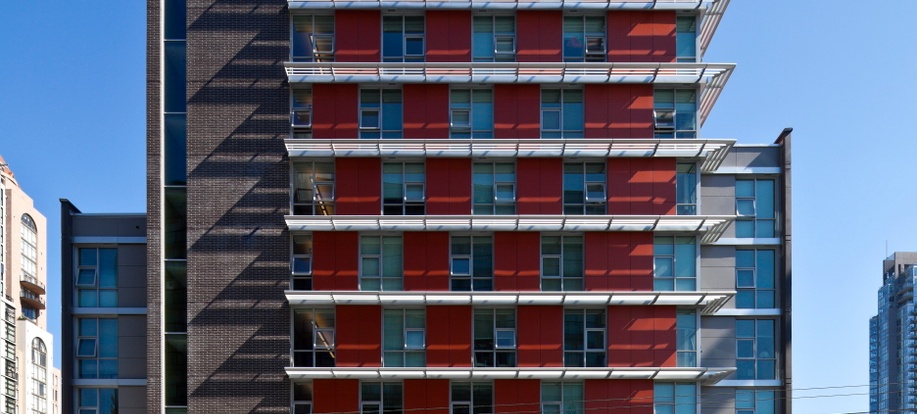 Karis Place - 1338 Seymour Street
Certifications & Awards
LEED Canada for New Construction and Major Renovations (registered)
2012 SAB Magazine Award Canadian Green Building Award
LEED Gold (Pending)
Project Team
Operator

: More Than a Roof Foundation

Developer

: City of Vancouver, Province of British Columbia

Architect

: Neale Staniszkis Doll Adams Architects

General Contractor

: VanMar Constructors
Green Building Audio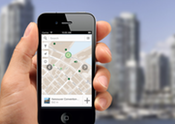 Targeting LEED Green Education Credit?
Our audio tours qualify.
Get one today!
style="font-size: 12px;">
Karis Place - Larry Adams and Anthony Milkovich of NSDA Architects
Summary
This project is operated by the Granville Mennonite Housing Society / More Than a Roof Housing Society seeks to 'Bring People Home', and help develop and manage affordable housing for those suffering from mental and physical health issues, in the recovery process, and those affected by low income or homelessness. In 2011, in partnership with the City of Vancouver and BC Housing, More Than a Roof unveiled a 5,709 square metre, eleven storey building in downtown Vancouver for those in need.
The facility consists of 105 studio apartments, 5 wheelchair accessible units, and 30 units dedicated to Vancouver Coastal Health addiction recovery. Only 11 underground parking spaces were included to minimize car traffic and recognize that residents can take advantage of public transportation or simply walk to shopping areas throughout the downtown core. Ground level comprised of game rooms, a lounge, outdoor deck and laundry accompanies More Than a Roof's commercial kitchen, dining space and administrative space.
Karis Place was designed to meet BC Housing's criteria requiring that no more than 10% of end use energy be provided by fossil fuels and to achieve LEED Gold Standard. 
Key Sustainability Features
Only one level of underground parking with eleven available parking stalls for cars
Durable construction materials with thermal insulating spacers
No more than 10% of end-use energy from fossil fuels
Bicycle parking and shower facilities
Electric Vehicle charging stations
In-floor radiant heating for residential suites
Energy and  Atmosphere 
With ambitious energy design goals, Karis Place was marked to use over 55% less energy than an equivalent Model National Energy Code baseline building. The building's energy systems produce over three times as much heating and over four times as much cooling as energy consumed. The high performance building envelope was conceived with durability and ease of maintenance in mind. The insulation, walls, doors, and windows are all designed to minimize air leakage and thermal bridging.
The indoor environment received careful consideration. Over 87% of regularly occupied building spaces receive at least 25 foot candles of natural daylight, and over 99% have direct line of site to an exterior window. Volatile Organic Compounds (VOCs) and other indoor pollutants were minimized by the use of low emitting paints, adhesives and sealants, carpets, cabinetry and millwork.
Smoking is permitted within suites, but control of tobacco smoke was achieved through high performance gasket and sealant enclosures of individual suites. Consultants confirmed the effectiveness by "blower door testing" the individual suite air-tightness. This prevents the spread of tobacco smoke and improves energy efficiency, sound proofing, and control of odour and vermin.
Extensive metering has been installed to measure and verify the building systems for more than a year after occupancy. Data collected will be measured and compared to energy modeled predictions and operational performance will be optimized.
Water Efficiency
Water use has been reduced to 48% below what would be seen with standard standard fixtures after installing highly efficient toilets, faucets and shower heads.
Resources and Materials
The core materials used in Karis Place construction consist mainly of brick, concrete and a steel stud structure to maintain thermal insulating spaces and reduce energy loss. Construction materials selected contained over 16% recycled content and ovver 75% of construction waste materials were diverted from landfills. 
Innovation in Design
In an effort to raise awareness about the Green features of the building, Karis Place implemented an audio tour to educate building occupants and the public. 
Site Context
Karis Place is conveniently located with walkable access to bus and train facilities in downtown Vancouver's South District neighbourhood. Shopping and community resources provide comfortable living without the need for a car, with Granville Avenue, Yaletown and Davie Village close by.