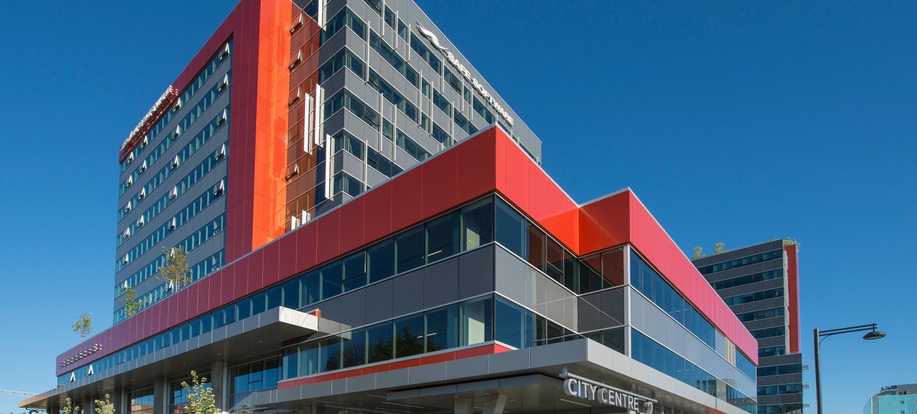 Certifications & Awards
CAGBC LEED Gold (targeted)
Project Team
Developer

: Lark Group

Sustainability Consultant

: Lighthouse Sustainable Building Centre
Green Building Audio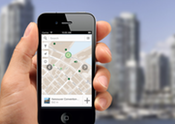 Targeting LEED Green Education Credit?
Our audio tours qualify.
Get one today!
style="font-size: 12px;">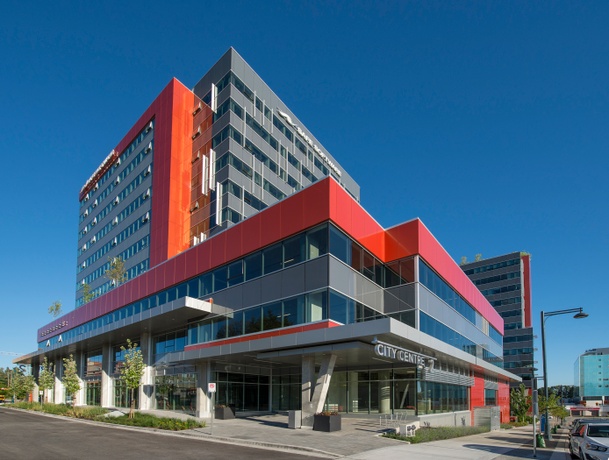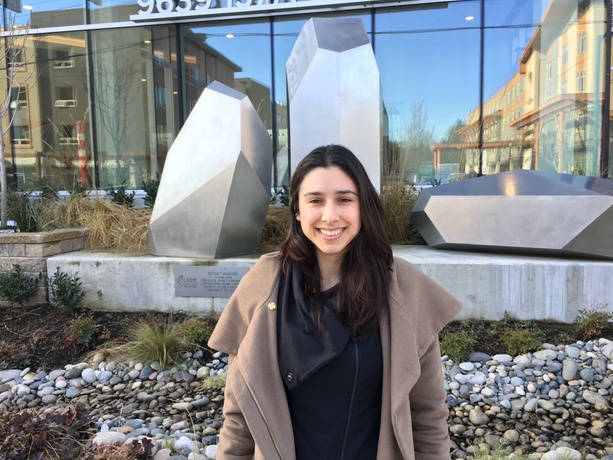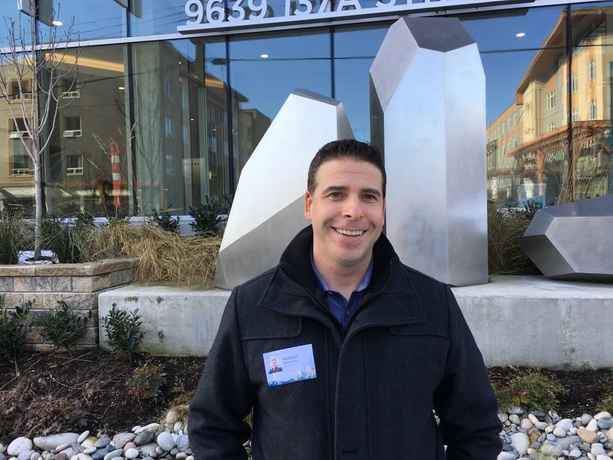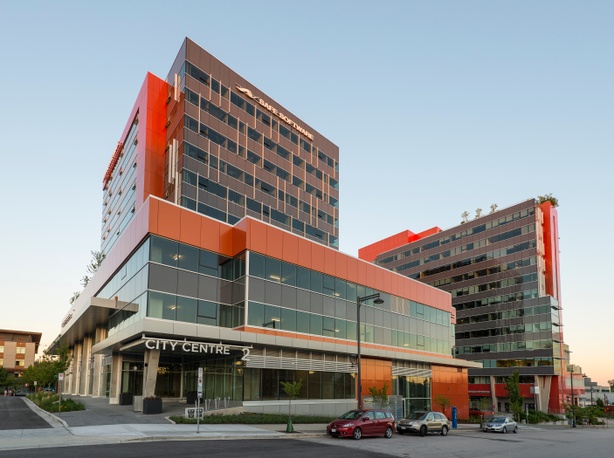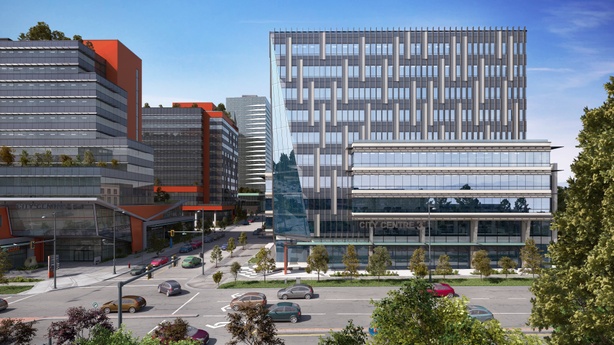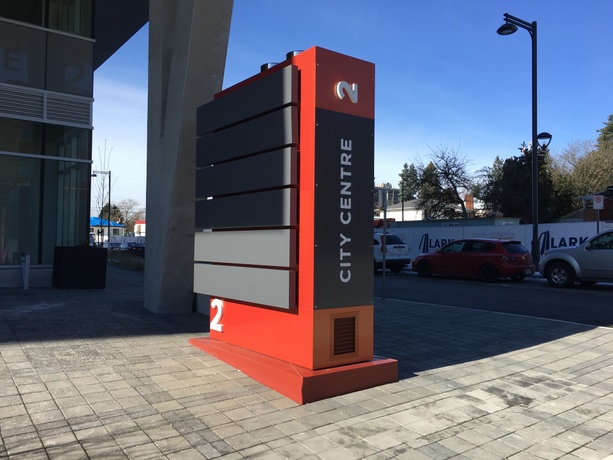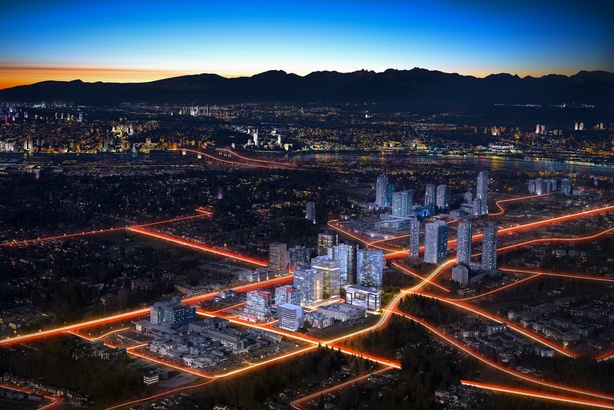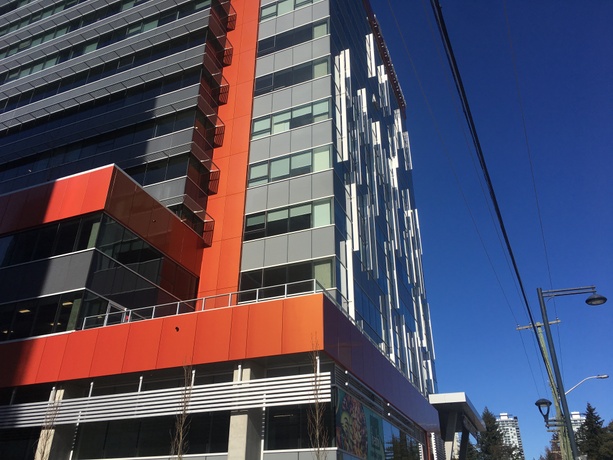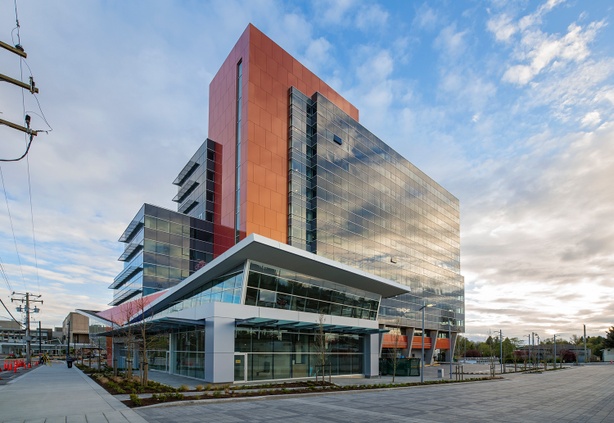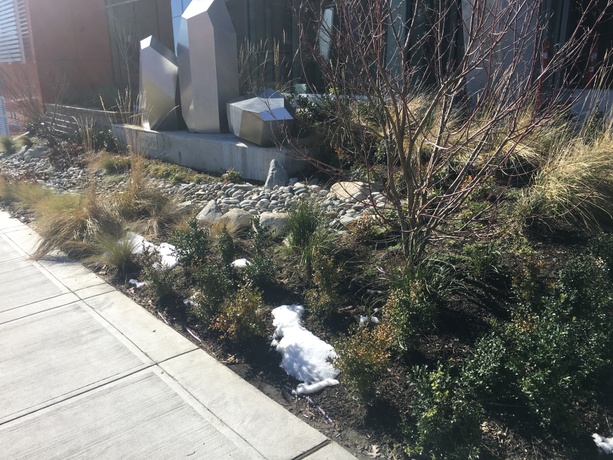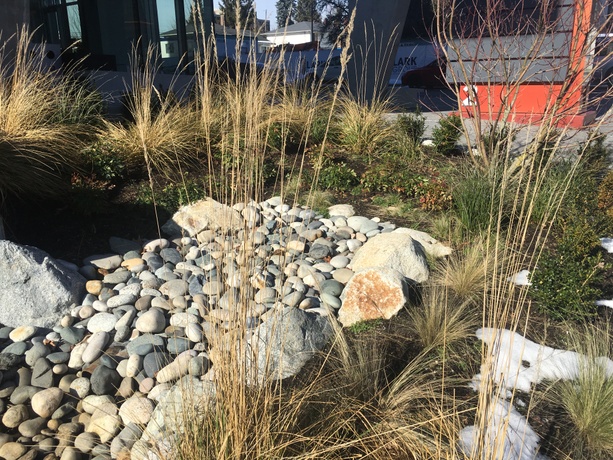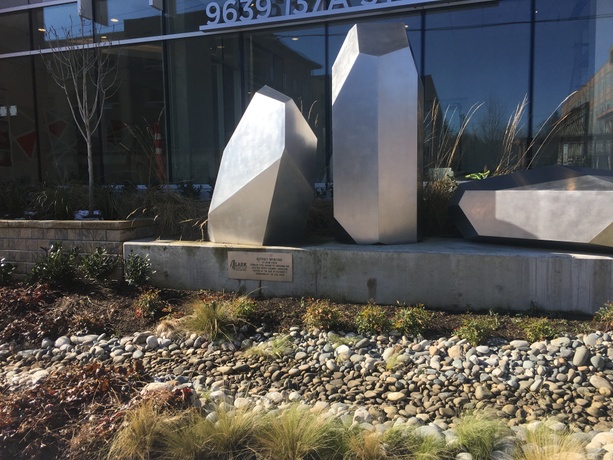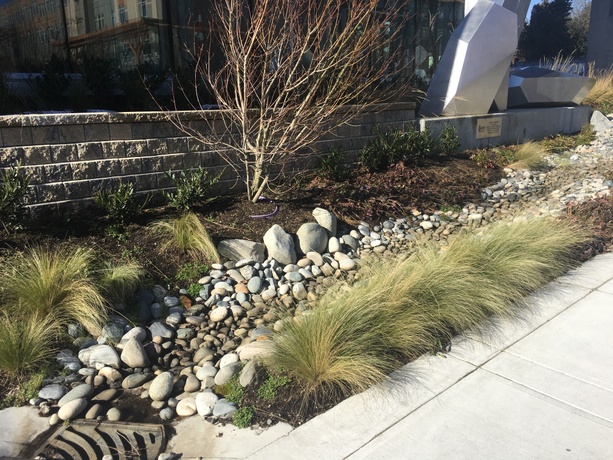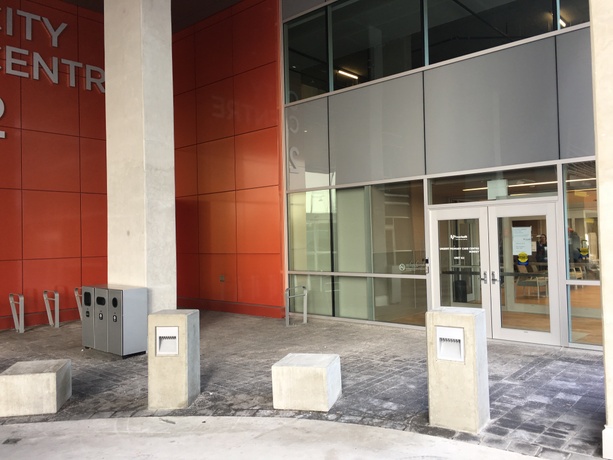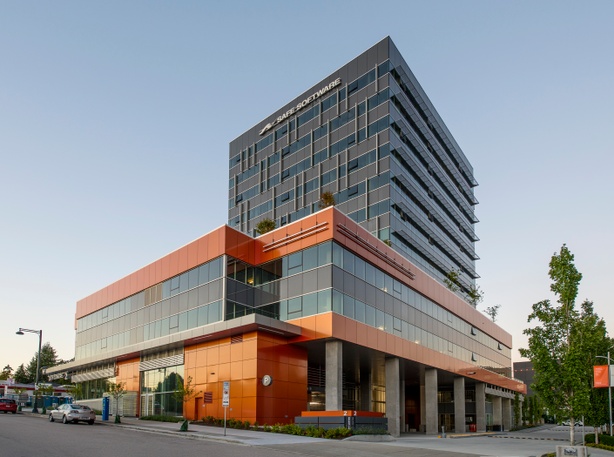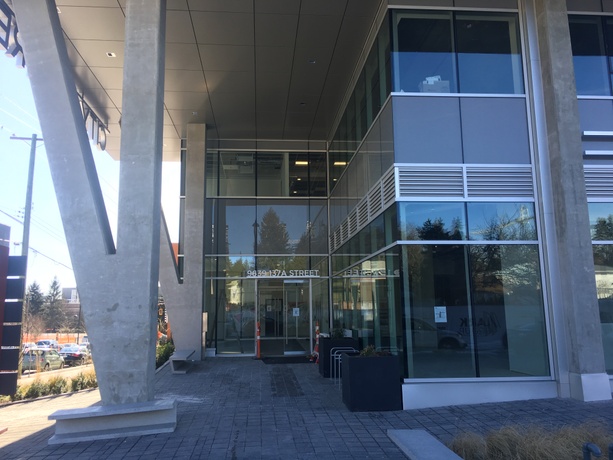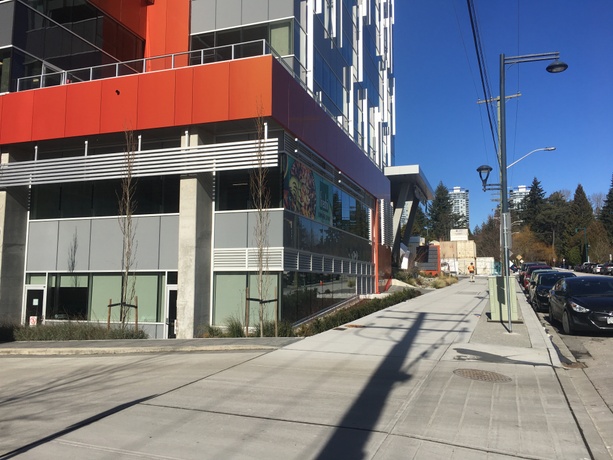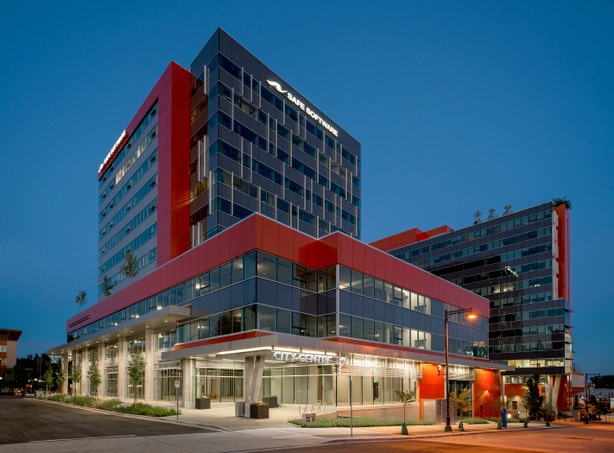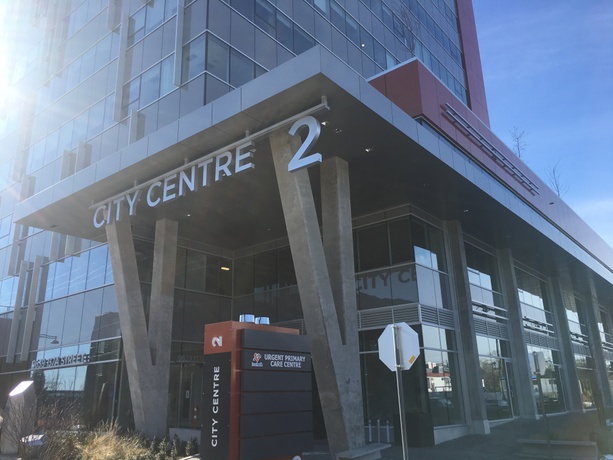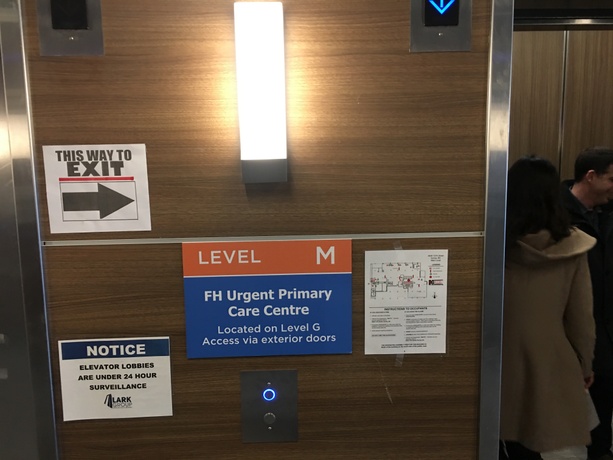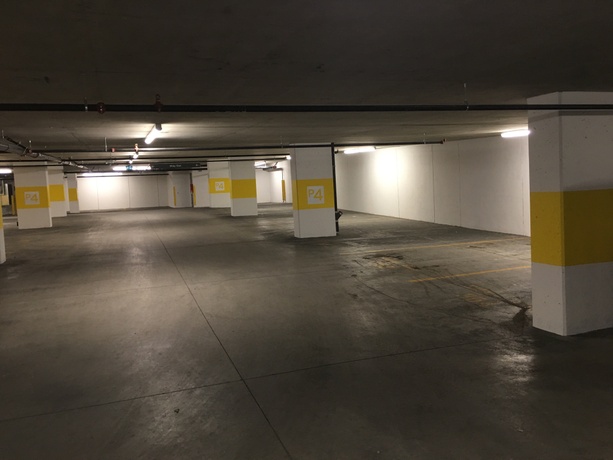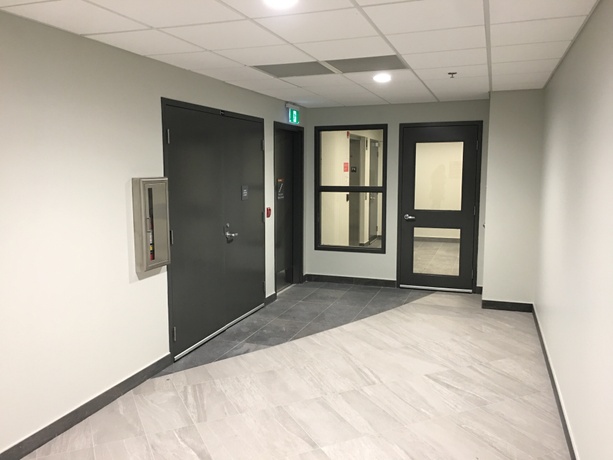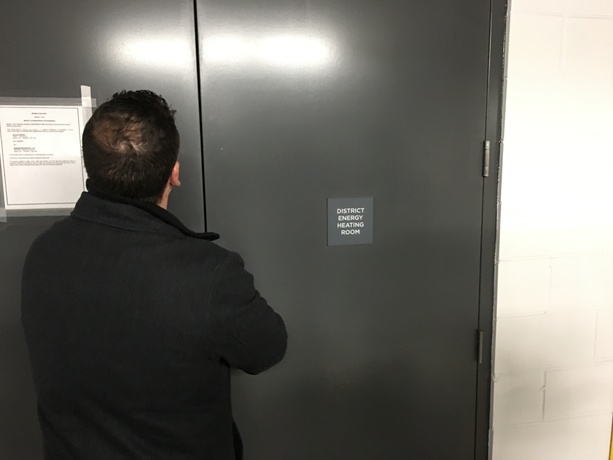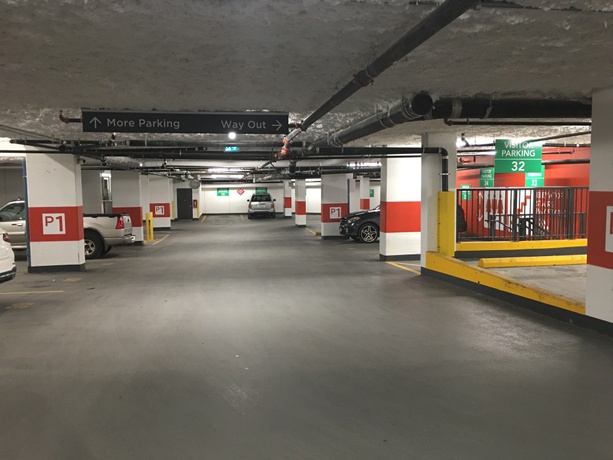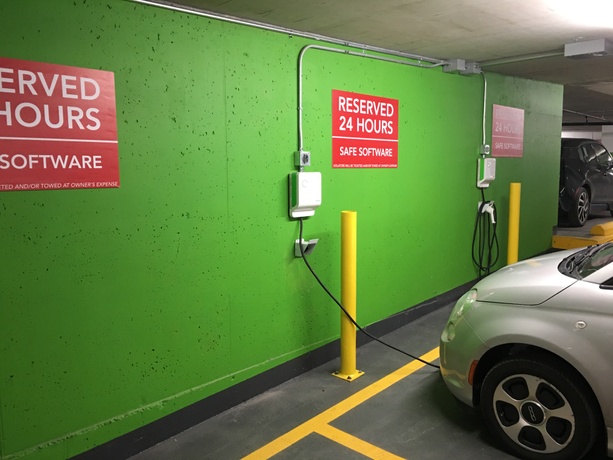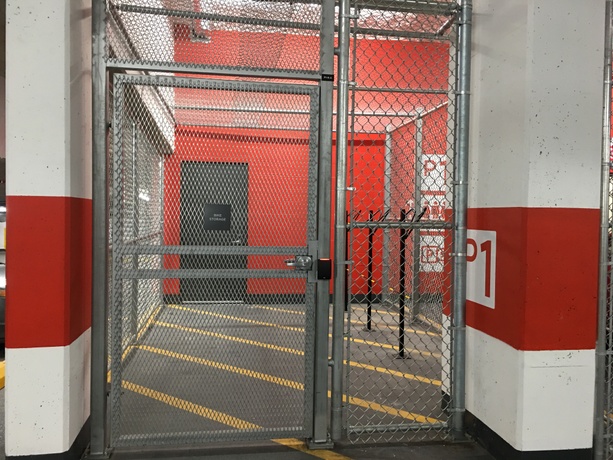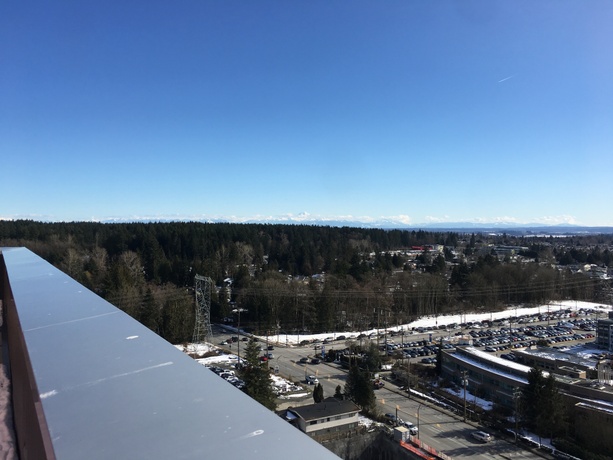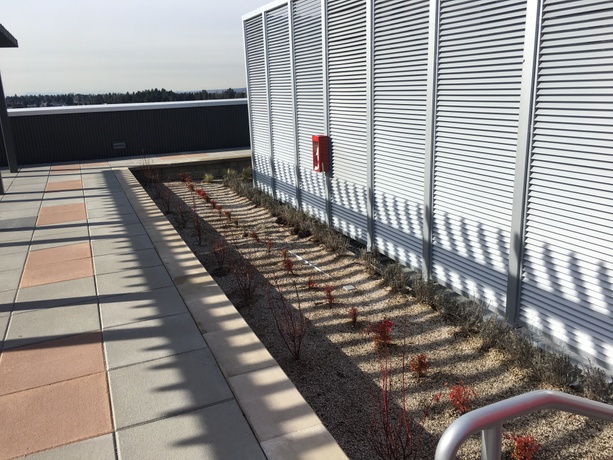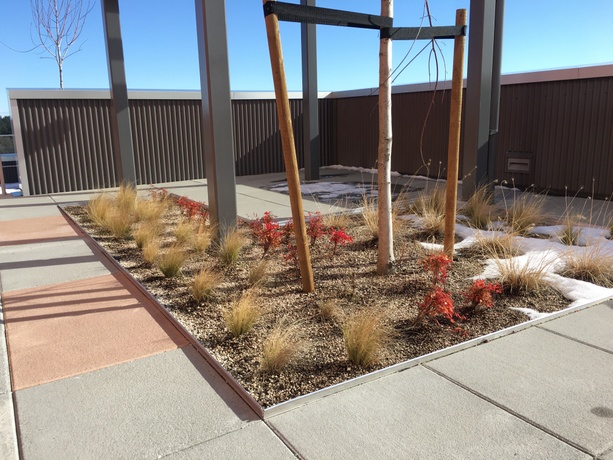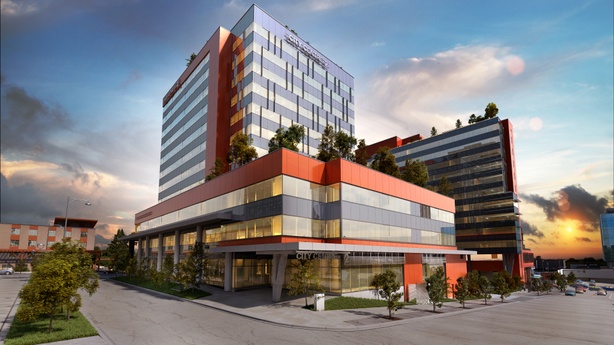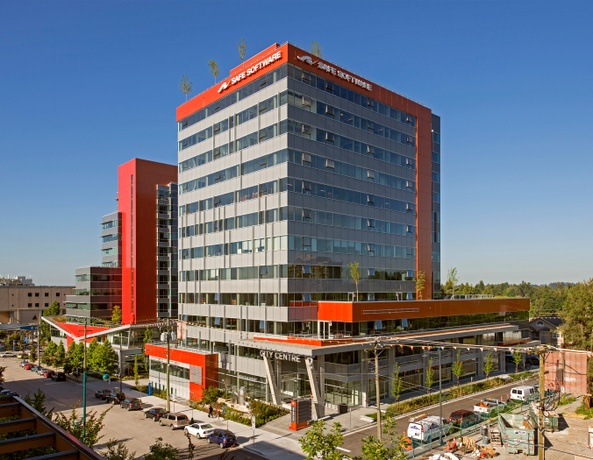 Christina Radvak, Lighthouse Sustainable Building Centre & Matthew Alexander, Lark Group.
Summary
City Centre 2 (CC2) is a 16,667 m², 12-storey, mixed-use building located in Surrey Central City District. CC2 is located adjacent to CC1—the first building in the City Centre series—as well as CC3, which is currently under development. CC1 is a LEED Gold building, and CC2 is in the process of applying for LEED Gold. The decision to pursue LEED certification on the City Centre series makes a lot of sense—LEED represents a push for market transformation and achieving certification signals the intent to design and construct with sustainable excellence.
Site
CC2 is located on a previously developed site that slopes from north to south. There is an entrance on the northeast corner of the building with a secondary entrance on the south side that opens onto a plaza-like space that is between City Centre 1 (CC1) and CC2. There are no curbs so pedestrian and vehicular traffic is differentiated by paving patterns and bollards. The surrounding neighbourhood is comprised of residential housing with a mix of single-family detached, duplexes, medium and high-density apartment buildings, and townhouses. The Green Timbers Greenway runs near the site, as does Quibble Creek.
Major Sustainable Elements
Sustainable Sites
Overall, CC2 is located in a dense area with many local amenities and services. To name a few, nearby amenities and services include access to the hospital, King George Skytrain Station and multiple bus stops within walking distance, businesses provided by CC1, a daycare (and a dog daycare), places of worship, many restaurants, Queen Elizabeth Secondary School, AHP Matthew Elementary, SFU, and other centres of learning, and Central City Shopping Centre. CC2 is fitted with extensive bike storage facilities and showers and provides EV charging stations for the convenience of occupants and visitors.
As is true for all areas in the Lower Mainland, rainwater management is an important consideration for development projects. CC2 is fitted with stormwater capture and quality control management features.
To prevent contributing to local heat island effects, building materials were carefully selected to reduce excess absorption of solar radiation.
The exterior of the building has lighting that is 99% downward facing to prevent light pollution after the sun sets.
Water Efficiency
Fixtures and fitting were installed that help preserve potable water use. Overall, CC2 can boast a greater than 30% reduction in potable water use from a base case. Additionally, a water-efficient landscape was designed to include native and adaptive plants. When choosing plant species for landscaping, a focus on native and adaptive plants will eliminate or nearly eliminate the need for irrigation.
Energy and Atmosphere
This is an energy efficient building. Through a variety of methods, it operates at 24% reduced energy demand compared to a base case. This was done through smart envelope design, insulation choice, and integrating high-efficiency technologies (ERV units, Hybrid Heat pumps, sensor lighting).
The envelope was designed to incorporate fins along the façade. This has an aesthetically-pleased impact, but is also functional—these fins help to shade the building when the sun is at its highest. Occupants benefit from this style of design through greater thermal comfort and solar glare control. A high-quality insulation was installed throughout the building which contributes to CC2's overall energy efficiency. Passive strategies such as these are an excellent way to make a big impact in comfort and efficiency.
CC2 can boast that it does not use refrigerants that are ozone-depleting. Chlorofluorocarbons and hydrochlorofluorocarbons (CFCs, HCFCs) are not used in any of the refrigerant-containing equipment.
Finally, to ensure that mechanical systems are running as intended, a Commissioning Authority was hired to review the HVAC systems, lighting systems and controls, electric DHW heaters, emergency generator, central building automation, domestic water pumping and mixing systems, irrigation system, rain re-use systems (pumps, controls, potable make up water, etc), and plumbing.
Materials and Resources
CC2 offers a dedicated recycling collection and storage space that is conveniently located and accessible. Throughout construction, a /Construction Waste Management Plan/ was carefully followed, resulting in 80% of all waste generated avoiding the landfill through recycling and re-use efforts.
Construction materials were carefully selected for this project—of the total value of materials in the project, 10%, by cost, contain recycled content; 20% of materials, by cost, have been sourced regionally (i.e., extracted/harvested/recovered/processed within 800km or 2,400km if transported via rail or water); and of all the permanently installed wood-based materials used on site, 50% is certified wood in accordance with the Forest Stewardship Council's (FSC) Principles and Criteria for wood building components.
Indoor Environmental Quality
A variety of indoor environmental quality design and construction techniques were prioritized for a better occupant experience and also to reduce the impact of poor air quality on construction workers.
First, the mechanical ventilation system was designed to meet Sections 4 – 7 of ASHRAE 62.1-2007. The building is non-smoking, and smoking is strictly prohibited 7.5m from all entrances, operable windows, and outdoor air. No outdoor area has been designated to smoking.
During construction, a /Construction Indoor Air Quality (IAQ) Plan/ was enforced, including meeting all five "SMACNA" categories, which protect the air quality of future occupants and construction workers.
Low-emitting materials were selected for wet-applied products (paints, coatings, adhesives, and sealants), as well as for flooring. Composite woods and laminate adhesives contain no added urea formaldehyde.
Innovation in Design
Communicating all of the green building strategies adds an extra layer of impact. Lark has developed a green education initiative to showcase all of these design features, of which this case study is a part of. By showcasing the sustainability features of CC2, the public and occupants can become aware of ways that development projects affect the environment and, ideally, they will begin to notice these strategies in other buildings they occupy. Another part of this green education is a green building podcast that leads the listener through with an audio tour of the building, highlighting the green building features unique to CC2.
The CC2 site also benefits from being in a particularly walkable location. LEED rewards project teams for site location considerations, and this is no exception. Walkable spaces help to build a sense of community, and can reduce the need for excessive vehicle use. As this area continues to develop, the walkability of the area will enhance community feel and set the tone for other developments.
Regional Priorities
Sustainability is a broad concept and regionally needs will vary. For that reason, CC2 has specifically targeted LEED credits that are of particular importance for our region, including: Development Density & Community Connectivity; Stormwater Quantity Control; and Construction Waste Management.
Finally, a durable building requires less maintenance and repair overtime. CC2 has been built to last, meeting the principles in CSA S478-95 (R2007) – Guideline on Durability in Buildings.